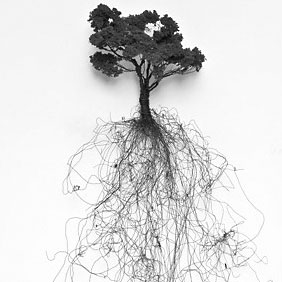 Measurements of the actual piece is 60" tall x 18"wide. The piece is made up of two parts, the tree made out of SLA White Resin for my material....and the roots which are made out of copper wire. The piece is a tall sculpture but is flexible with the wire. I most likely will have some of the roots draped over the stand that is holding the piece.
Tree top and trunk ( material - SLA White Resin ) h 18 x w15"
Roots ( material - copper wire ) h 42 x w20"
Total h 60 x 20"
I am creating a tree and roots out of SLA White Resin to comment about the environment and the scarcity of natural resources. The top of the piece will be stylized cartoonish in nature and the roots will be exposed using insulated copper wire. Trees are the metaphor of this idea in this piece and the possibility of our need to synthetically recreate them in the future.