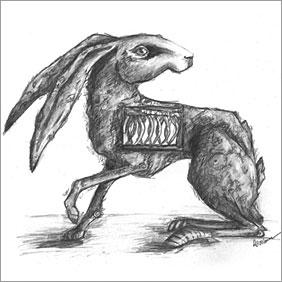 My piece has been created in resin and finished in a graphite finish.
It measures 15" x 17" x 9".
I wanted to use animal imagery for my sculpture, one because I love using animals as a metaphor for most things, but also for me it was a way to insure the relatability of my work while using the digital process. I chose the hare because of the old world, romantic idea of beauty and nature it represents, juxtaposed with this new world, digital way of creation. I'm challenged by the innate sense of conflict this presents.
The rabbit's coat is intertwined and layered with sculptural shapes creating an extra layer of narrative within the animal's fur. I've created negative cutouts around the body allowing the viewer to see some of the animal's internal workings.
This study of contrasts, old vs. new, fur to rigid material, nature and technology, exterior and interior, life vs. decay are some of the paradoxes most enticing to me in creating this work. I enjoyed the challenge of creating a work with this new medium that was decidedly still my work while taking advantage of the tools and the inspiration that comes when working with something new.